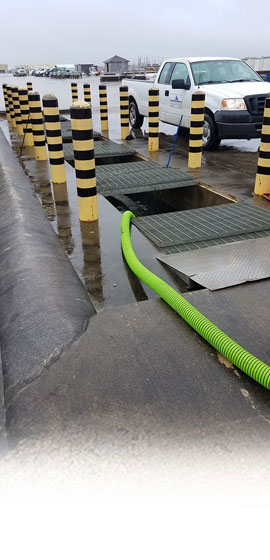 Government Waste Disposal Contracts
We currently service over 20 government contracts covering much of the country.
When you're looking for a team with a long history of managing government contracts, you want Providence. We specialize in liquid waste disposal and cleaning services such as oil/water separators, grease traps, septic tanks, and more. For many years, we've enjoyed ongoing success with the armed forces as a contractor specializing in cleaning and miscellaneous government waste disposal throughout the Southeast. We currently have active contracts with every branch of the military performing oil/water separator service, grease trap cleaning, line jetting and septic tank services. Stringent environmental standards and quality control have allowed Providence to maintain a spotless performance record on all our contracts for government waste disposal and throughout the Southeast.
Government Cleaning and Waste Disposal Frequently Asked Questions
Download our Capabilities Statement (doc)
Among our customers are Air Force, Marines, Army, Coast Guard, Veterans Administration, state prison systems and various school districts throughout the southeast. We're a Hub Zone company certified by the SBA to bid on these contracts. Our high-quality service is available to all our clients, be it as the prime contractor or a subcontractor.
Providence Environmental is open to partnering with other firms such as 8A, HUB Zone or SDVO. Our government waste disposal services to these organizations may include:
Grease trap cleaning
Subcontractor
Waste disposal
8a partnership
Joint venture
Sand trap cleaning and service
Small business
Waste Management and Remediation Services

562111 - Solid Waste Collection
562219 - Other Nonhazardous Waste Treatment & Disposal
562910 - Remediation Services
562991 - Septic Tank & Related Services
562998 - All Other Miscellaneous Waste Management Services
For more information, please call (803) 754-1175 or contact us today.