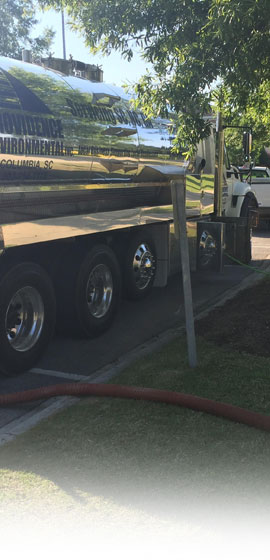 Sludge Hauling
Treated wastewater produces sludge, and somebody has to come in, remove the sludge, and haul it away. Other industries produce sludge, as well. It's a wet, thick mud or liquid mixture produced in refineries or industrial processes. Providence Environmental is here to provide the sludge hauling your business needs to continue running without worry. As mentioned, there are various industries that deal with this, including the oil and gas industry.
For wastewater treatment plants, dewatering sludge is important for reducing the odor, system upsets, volume, and any damaging effects on environmental and public health. Not utilizing proper sludge hauling services can ultimately harm the environment. There are safe and legal ways to properly remove the sludge. The Environmental Protection Agency (EPA) classifies specific sludges as exempt waste.
Some examples of sludge include:
Cooling water
Sewage sludge
Acid mine drainage
Grey water
Industrial wastewater
Septage
Biosolids vs. Sludge
Biosolids refer to the sludge that meets the EPA's pathogen and pollutant requirements for surface disposal and land applications. The biosolids can become fertilizer and provide essential nutrients for plant growth. Providence Environmental provides biosolids hauling to help remove these wonderful solids from the treatment plants. We can bring back the organic materials and nutrients to the areas that have been depleted of such resources due to forestry and farming.
For your sludge hauling, Providence Environmental will safely remove all the sludge and haul it to the proper disposal facility or treatment. We've been respected in the industry for so long that you can trust our judgment and expertise. Our guiding principle is "do the right thing," meaning we always have our customers in mind. Providence Environmental will provide the knowledge needed to correctly handle your sludge hauling in South Carolina, but that's not the only state we serve. Give us a call today to inquire about any of the services we offer and find out how we can help you.