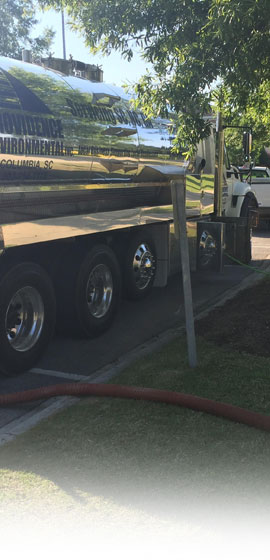 Vacuum Truck Service
Sewage vacuum trucks are commonly seen around cities, on job sites, and driving down the road. These large industrial trucks provide necessary services to businesses that need material removed from overhead, a distance, or underground.
Vacuum truck services provide reliable ways to remove sludge, sewage, and large-scale liquids. Use can also use these services for municipal and industrial settings to vacuum debris and water left behind during drilling and hydro-excavation jobs. The services are vital to keeping the environment cleaned properly after a job. Cities and job sites utilize these trucks to prevent sewage system overloads, for mud clearing, and to expose utility lines.
These large trucks work similarly to shop vacs—or, more specifically, incredibly large shop vacs. Have you ever had to use a stronger shop vac to clean up a mess at home? This reason is why these trucks are required. A strong pump removes the air from the tank, creating suction inside. The tank will forcefully try to equalize the pressure inside when workers open the primary and secondary shutoff valves on the suction hose. The higher the quality of the vacuum, the more reliable and powerful the equipment is. A sewage vacuum truck will suck up all the sludge and liquid, the same way a home vacuum works.
Did you know hydrovac truck services actually save lives? They keep the waste and debris from entering local waterways and contaminating the environment. There are also instances where these trucks were called in to help emergency personnel to perform rescue missions. Disaster can strike at any time on job sites. Trenches or pits could collapse, trapping workers. Luckily, a vacuum truck can quickly remove soil and sludge to help free the worker.
If you require vacuum truck services, call Providence Environmental Concepts and Services. Our experienced professionals understand how to handle the dirty jobs to keep your business running efficiently. Contact us today to find out more.