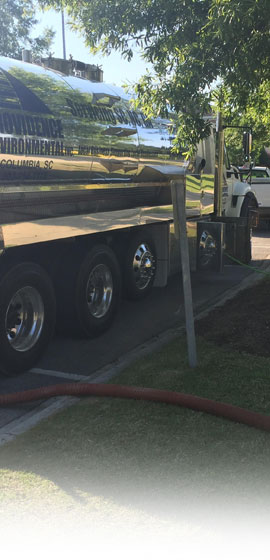 Tank Decommissioning in South Carolina
Greenville, SC
During the fall of 2012, Providence Environmental (PE) was personally approached by a unique, highly specialized, hazardous waste material, recycling management company. PE was given the task of cleaning, decommissioning, and recycling the leftover fuel of a 20,000 gallon gasoline tank that was located on a multi-million dollar automobile expansion near Greer, South Carolina.
In just 2 days, PE was able to create a plan, apply the appropriate technology and expertise, and safely manage the waste that was extracted from this plant during the tank decommissioning.
This task was performed by one of PE's modern liquid ring vacuum trucks that can safely extract flammable material and transport it to its final destination.
The tank decommissioning services that Providence Environmental provided for this project included:
Tank decommissioning and cleaning in a hazardous environment
Handling of hazardous waste and flammable liquids
Waste Recycling
Service performed by a state of the art Liquid Ring Vacuum Truck
Above ground, below ground, and underground storage tank cleaning services
For more information about industrial tank decommissioning near South Carolina, please contact Providence Environmental at (803) 754-1175 or contact us today.