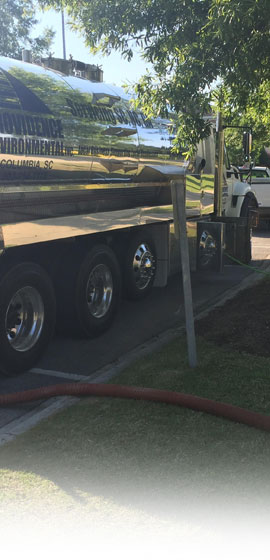 Storm Drain Services
A storm drain is meant to divert environmental precipitation like rainwater and melted snow from streets. To help manage flooding, engineers designed storm drains for communities to use to collect excess rainwater runoff and other drainage. Storm drains clear water from parking lots, roadways, business complexes, recreational areas, neighborhoods, and more.
This system is not meant to carry sewage or hazardous waste. The runoff rainwater will travel to open ditches or underground pipes until the water is pushed into local rivers, streams, and other bodies of water.
These systems collect significant amounts of litter and debris as well, since the rainwater pushes whatever objects are around into the opening, clogging the storm drain. That's why periodic cleanings are needed to clear away all the items and breaking up the clogs. Turn to Providence Environmental for our professional storm drain services.
Are you familiar with the signs that indicate a storm drain has been clogged?
Sagging concrete or land
Excessive flooding
Strong odors
Leaking water
Immediately call the professional services of Providence Environmental to provide storm water drain cleaning. We have over 50 years' experience in the industry, so you can trust our expertise and knowledge. Our staff is well trained in the correct processes to clean storm drains efficiently and effectively. Providence Environmental will loosen and dispose of debris and get your storm drains up and running.
Our customer service is unrivaled, and we pay close attention to detail with unequaled integrity. This equation created a company with a "can do" attitude. Clients appreciate our "do the right thing" guiding principle that allows us to build relationships with our customers.
Providence Environmental is working hard to help protect our planet with our green response. We work hard to recycle waste and stay out of the landfills. Contact Providence Environmental today to see how we can help you with your commercial storm drain cleaning.