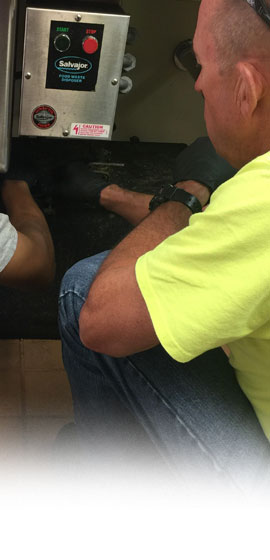 Restaurant Frequently Asked Questions
How often do I need to clean my grease trap?
Cleaning frequency for a grease trap depends on several factors, which include the grease trap design, seating capacity of the restaurant, cooking techniques, and most importantly, local sewer code. Typical cleaning frequency for a properly sized, well-maintained grease trap is four times a year.
Where does the grease trap waste go after cleaning?
Grease trap waste is difficult to handle, so it is a good idea to know where your waste is being hauled. At Providence, the customer receives a signed manifest stating where the material goes. Once the material arrives at a disposal site, the customer receives a closed manifest indicating proper disposal. Providence makes every effort to utilize disposal sites that leave the smallest environmental footprint. We typically recycle grease trap waste into water and biomass for energy recovery. Providence does not use any land disposal sites, which ensures a cleaner environment for our customers.
Why is my grease trap overflowing?
A grease trap overflows because water from the restaurant is not making it to the sewer system. A clogged line on the effluent side of the grease trap usually causes this. A grease trap in poor condition allows grease to pass through to the sewer. In these cases, cleaning the grease trap and jetting the line going to the sewer should solve the problem. If the grease trap is in good repair, consider increasing the cleaning frequency.
How do you clean the grease trap?
Providence Environmental uses vacuum trucks to completely remove all water, food, and grease from the grease trap. Scraping or pressure washing the interior of the grease trap removes any excess food or grease.
What is line jetting?
Line jetting is a technique used to clean the interior of a pipe. A high-pressure pump forces water through a specially designed nozzle that cleans the interior of the pipe.
How can I keep my kitchen floor drains clear from backups?
A backup is costly in many regards, and in a commercial kitchen, the lateral floor drains are critical to safety and cleanliness. It is imperative to reduce the amount of grease that makes it to these drains, so never pour fryer oil in a floor drain. Wipe up grease spills rather than spray them down the drain.
Will you pay me for waste vegetable oil?
Waste vegetable oil has value in the open market. In many cases, Providence can place a container at the customer's site at no charge and pick up the oil on a timely basis. Depending on the quality and quantity of the oil produced, we will send a rebate check to the customer. Call us today to see if this will work for you.